. . . the hot, vibrant energy of summer…the peak of activity, enthusiastic, magnetic, excited, fun...think "kick up your heels" type of Energy!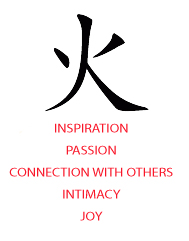 I am truly "Fired Up" about WEAR YOUR CHI™, my newest CHI DOT™ tool !!!
Knowing that Everything is Alive with Chi, the universal life force, gives us a whole new perspective on the people and possessions that surround us…our environments.
So, ask yourself…"What is my most intimate environment?"
Guess what? It is your Clothing!
Do your clothes speak your truth?
Is your wardrobe authentic to who you are?
Does your appearance affirm your goals?
Your clothing energetically influences your life just the same as your home and workplace. Think about what your clothing is "saying" to, and about, you?
To me, my knowledge and skills for applying Feng Shui philosophy and principles to something so fundamentally important as the energy between a person and their clothing is one of my most valuable Feng Shui tools.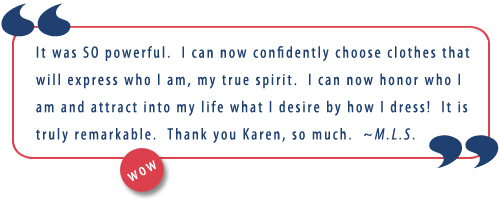 By applying Nature's 5 Elements, I can guide you to a deeper understanding of your own Personal Energies. You learn to dress to feel "in your element"…authentic confident, and attracting your deepest goals!
…take a Fashion Feng Shui® Quiz.
Learn more about WEAR YOUR CHI™ and my WEAR YOUR CHI™ Services.
CONTACT KAREN for a personal or a group consultation!
WEAR YOUR CHI™ and "elevate what was once a mundane routine to a mindful ritual, so that getting dressed becomes easy, fun and empowering!"
This innovative and transformational philosophy was created by my teacher, Evana Maggiore. She took her extensive background in fashion and melded it with her expertise as a Feng Shui Consultant. Learn more about Fashion Feng Shui® at www.fashionfengshui.com.
Adapted from Evana Maggiore/Fashion Feng Shui®.
Fashion Feng Shui® is a trademark of Fashion Feng Shui International