GIVE "CHI" NOTE PRESENTATIONS
. . . forget the ordinary
More than likely, your answer is. "Yes, and it happens all the time."

In today's hectic world, the visual portion of a presentation is often put together at the last minute. The subject matter is there, but not the CHI you need. In fact, the Energy from the visuals can contribute negatively to the presentation.

When it is your turn to take the podium
YOU can wake everyone up … hold their attention
… create interest in your topic

When...

the Energy within your visual presentation inspires your Audience.
The Energy is in sync with you and your topic.
The visuals communicate your Intention.
Feng Shui is based on the principle that Everything is Energy. To help you envision this scientific fact, I call this energy CHI DOTS™… think millions of "dots" alive with energy everywhere … just like pixels in the digital picture on your television.
"CHI" NOTE Presentations
By using Feng Shui principles, we can create a professional, dynamic, and mindful presentation that is in harmony with you, your topic, and your Intentions. When the CHI connects to your audience … you and your presentation become memorable!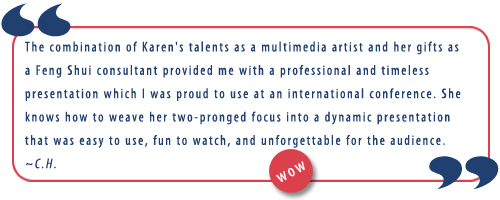 "CHI" NOTE Presentations - stand-alone
Using the same Feng Shui principles, I also create timed "stand-alone" multi-media presentations combining your images and text … with or without music. Video can also be included.
This type of presentation is perfect for a program or advertisement.
CONTACT KAREN and make your next Presentation a "CHI" NOTE.