. . . the condensing, hardening energy of autumn. It is a return to beginnings and an ordering of nature's components…completing and refining…and beautiful.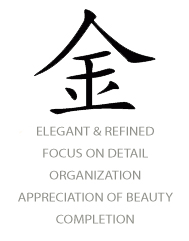 Metal is the Energy of quality over quantity and a love for beauty and culture…with inherent good taste!
Using talents drawn from years in the world of photography, which requires technical, creative, and most of all intuitive expertise … adding my Feng Shui knowledge and skills … I have become the alchemist…taking

Give "CHI"NOTE Presentations – tired of the typical visual presentation? Connect effectively to your audience with a presentation designed following Feng Shui principles. Learn more.
CHI For Art - working with artists and galleries to layout and install exhibits based on Feng Shui principles. Learn more.
Click Here to see examples …
CONTACT KAREN if you are an Artist or Gallery interested in harmonizing and vitalizing your CHI DOTS.™