. . . the awakening, active energy of spring. It is active new growth bursting forth like a young tree sapling.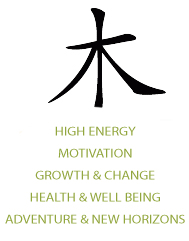 The dynamic and trail-blazing energy of the element Wood helped bring CHI DOTS™ into the world of Feng Shui. Once the idea germinated from seed, my Intention shifted from the stillness of Water to active movement.
My "Feng Shui palette" is rich with tools to guide you to experience excitement and joy as you create and conserve your sacred space…space that you love…space that resonates with you and your aspirations in life. I call this Working with CHI!
My CREDO contains beliefs and aims for CHI DOTS™. It is posted in my office and each morning I spend a moment "going into my Creative Cycle".
I look forward to the day ahead and aspects of Feng Shui work I will be doing… empowering clients … teaching a workshop …reviewing work done with a client… ongoing learning to increase knowledge and skills…and most of all treasuring clients' excitement and joy as you bring the power of Feng Shui into your life.
Learn about my Working with CHI™Feng Shui Services
CONTACT KAREN for your personal or group consultation